As the US makes life harder for foreigners looking to work there, the UK is emerging as their beacon of hope. In April this year, Britain introduced two new visas for international talent to set up shop there:
Start-up visa: Granted for two years to applicants who are endorsed by a business, a higher educational institution, or an incubator. Holders can take up other jobs to support themselves while they develop their business ideas. After two years, they can either switch to the Tier 2 visa or apply for the innovator visa.
Innovator visa: For more experienced business persons who have funds to invest in their ventures. The applications for this category are reviewed by business sponsors who assess applicants' business ideas for innovation, viability, and scalability. Initially issued for three years with an option to extend. "Both routes will make the visa application process simpler and clearer for skilled Indian talent," a spokesperson at the British high commission in Delhi told Quartz.
In addition, the innovator visa gives the option to apply for settlement in the UK, if the holder's business is doing well. In comparison, the US green card wait times run between a long 12 years and an unfathomable 150 years for Indians.
Also, "there is no cap on numbers in either route," the British high commission spokesperson said. This is in stark contrast to the most sought after US long-term work visa, the H-1B, now capped at 85,000 each year.
While the US also has a start-up visa, it received just 10 applications under Donald Trump, while none was awarded. As of 2017, the US homeland security has indicated it was working to abolish the provision entirely.
Opening the gates wider
Besides adding new visa categories, the UK is also relaxing norms for the existing options. For instance, there's the exceptional talent category under the tier 1 visa, directed at "a leader or emerging leader," which saw visa availability double from 1,000 to 2,000 in November 2017. And Indians' demand for British visas is only booming. In the year ended December 2018, over 55,000 tier 2 (general) work visas were granted to Indian nationals, more than the rest of the world combined.
In June 2018, the UK also removed doctors and nurses from the tier 2 cap due to the demand from the national health service (NHS), which accounts for around 40% of all tier 2 places. The move not only allowed more foreign doctors and nurses to live and work in UK, it also freed up hundreds of additional places for non-medical professionals. Tech sector jobs especially benefited, according to a report in daily newspaper The Register:
Figures previously released by the Campaign for Science and Engineering (CaSE) in May showed that 6,080 eligible applications were refused between December 2017 and March 2018, with 1,226 of these for IT and technology roles.
The number of refusals increased over the next three months – partly because those knocked back in one month can try again in the next. New data, obtained through Freedom of Information requests and published today, show a peak of 541 refusals for IT roles in June 2018.
No Brexit hangover for India
There were fears that Brexit would create uncertainty and dampen business in the UK. However, Indian investors continued to operate confidently in the country—in fact, a record 842 of them by April 2019. Over the past year, these firms paid over £684 million (Rs6,155 crore) in taxes and employed nearly 105,000 people.
This is besides the UK branches of Indian companies. For example, leading Indian technology companies, such as Infosys, Tata Consultancy Services (TCS), Tech Mahindra, Wipro, and HCL, employ over 30,000 people in their branches there.

Of the 800-plus firms, 35% belong to the technology field, according to India meets Britain Tracker 2019 by Grant Thornton LLP.
"In addition to generating employment in the UK, many Indian companies have also established talent programmes incorporating apprenticeships, mentoring and skills building," the British high commission spokesperson said. "Large IT companies are particularly strong in this area. Their efforts are helping create a pool of skilled workers ready to plug or at least reduce the IT skills gap in the long term."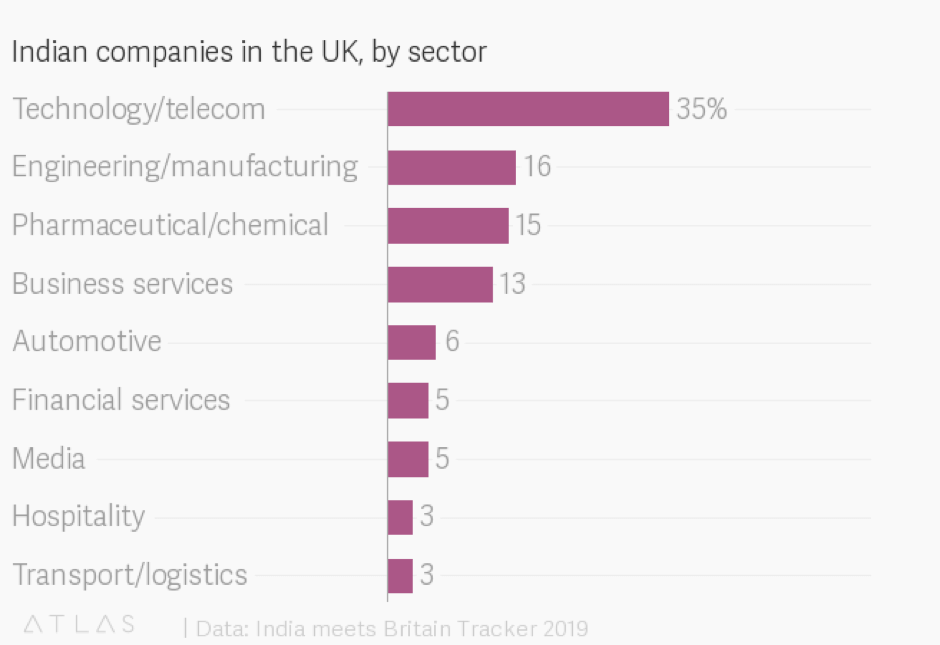 Beyond the company-level, India remains one of the most important sources of foreign direct investment (FDI) for the UK. Up to 120 such projects originated in India in 2017-18, according to figures from the UK's department for international trade, notably, Bharat Forge's £10 million investment in Tevva Motors, Oyo's entry into the local hotel market, and ride-hailing firm Ola's new operations there.
With 5,659 new jobs created by Indian firms and a further 532 safeguarded, India was the third most important source of FDI into the UK behind the US and Germany in 2017.
One survey released in March 2019 found that the UK is the preferred destination for real estate investment among India's ultra-high-net-worth individuals, with 74% preferring it to buy a new home.
"The attraction for Indian investors and families includes factors such as good security, top universities and the opportunity to do business in English," the report said. "The falling value of sterling has also had a role to play, making UK assets attractive to overseas investors from many countries. Low rates of corporation tax and the ease of doing business in the UK also remain significant draws."
Over the past year, both sides have made concerted efforts to strengthen ties. In January 2018, at the India-UK joint economic & trade committee (JETCO) in London, 26 agreements, including the UK-India Tech Alliance, were signed. Then, during prime minister Narendra Modi's April 2018 visit to the UK, the India-UK Trade Partnership was formed to develop new trading arrangements after Brexit.
Besides, the UK's future skills-based immigration system, slated to go into effect in 2021, has proposed to abolish the limit on the number of skilled people—engineers, doctors, and IT professionals—who can come to live and work in the UK.